Official Website for Christina Gaudet
Enter the Gaudet Galaxy!
 Experience the Magic of the Music!
Engage in the Artist's Way!
Meet Me in the Online Communities below!
 
Review Highlights:
Indie Shark Magazine - Nomination for Album of the Year! ~ Mark Druery

Gaudet's riveting vocals. She keeps the momentum and carries it through the album's finish. It's hard to choose a favorite track – they are all excellent.  I'm quite impressed and have to say that this collection came out of nowhere for me and I'm a converted fan. Keep Christina Gaudet on your radar folks, this self-described Cajun Queen is the current crown bearer of blues rock.... ~ Mark Druery 
https://indieshark.com/music-reviews/christina-gaudet-manhattan-oz-a-gotham-odyssey-lp/
Hollywood Digest Magazine ~ Garth Thomas
"Cajun Queen" Christina Gaudet combines the different cultural worlds that make up American music. Sung through the lens of a blues rocker and Louisiana-firecracker, Gaudet interprets the equally beguiling New York City rock beds into her song journey. With just a hint of that French drawl on certain words, but ripe with street-smart, NYC-residue rock guitars and drum arrangements, Gaudet is the perfect torch bearer for the American blues/rock scene. She has a track record of making the songs just jump and burst with energy and light. ~ Garth Thomas
https://thehollywooddigest.com/manhattan-oz-a-gotham-odyssey-by-christina-gaudet/
FAME Magazine ~ Troy Johnstone
Powerful singer/songwriter Christina Gaudet dazzles the listener with her blend of blues and rock in the new album Manhattan Oz: A Gotham Odyssey. The way Gaudet bundles together sultry vocals with electrified guitar and drum work gives all the emotional feels – the utmost being that she rocks –
These songs rock harder than I thought. It gives the listener a chance to end on an extremely high note and make something in their own life happen. It definitely lit a fire. ~ Troy Johnston
https://officialfamemagazine.com/2022/07/19/christina-gaudet-releases-manhattan-oz-a-gotham-odyssey/
Mobyorkcity Magazine~ Nicole Killian
Blues rocker extraordinaire Christina Gaudet takes the listener to a New York state-of-mind and then some in the jumping, riveting album Manhattan Oz: A Gotham Odyssey. A dizzying spell of blues riffs, fashionable percussion and Gaudet's blistering yet smooth vocal delivery, Manhattan Oz: A Gotham Odyssey is an incredible mix of rock, blues, a dash of Americana and all that makes music so worthwhile. From the opener "New York City" to the inspiring "Living It Till I Die" to the closer, "New Renaissance" Gaudet drills a stake in the ground that she is one of music's most eclectic and powerful female voices. No matter the genre, no matter the song, Gaudet has the listener transported to a whole new level of musicality in these awesome 10 tracks. That's the thing about these songs – they represent a journey in the fast moving, sometimes harsh city of New York (also known as Gotham). You get it all – the flashy, the murky and even the joy. Gaudet is at the top of her game in Manhattan Oz. Bringing the Big Easy to the Big Apple isn't an easy task – but Gaudet delivers a satisfying, wondrous sonic journey. ~ Nicole Killian 
https://mobyorkcity.com/christina-gaudet-releases-manhattan-oz-a-gotham-odyssey/
PopIcon Magazine ~ Trace Whittaker
They call New Orleans – The Big Easy for many reasons. Music lovers might think of it as the source for a sound that is just so easy to love. In addition to the jazz and even zydeco rhythms, New Orleans, Louisiana boasts a strong tradition of blues and rock. It's the precipice and even main ingredient in the gumbo stew that Christina Gaudet brings to the table in her impressive album, Manhattan Oz: A Gotham Odyssey. Gaudet seems to have a knack for crafting songs that bring the magic of a live show into the studio. Gaudet sings with flair and she sings with the abandonment you want and expect from a female lead singer. Listeners that love Bonnie Raitt, Alannah Myles, Melissa Etheridge, Irma Thomas and Fats Domino will fall for Gaudet. This is the sound I've been wanting and waiting for this year – so fulfilling! ~ Trace Whittaker
https://popiconmagazine.com/music/singer-songwriter-christina-gaudet-releases-new-music/
BUY NOW!
ALBUM OUT NOW!!!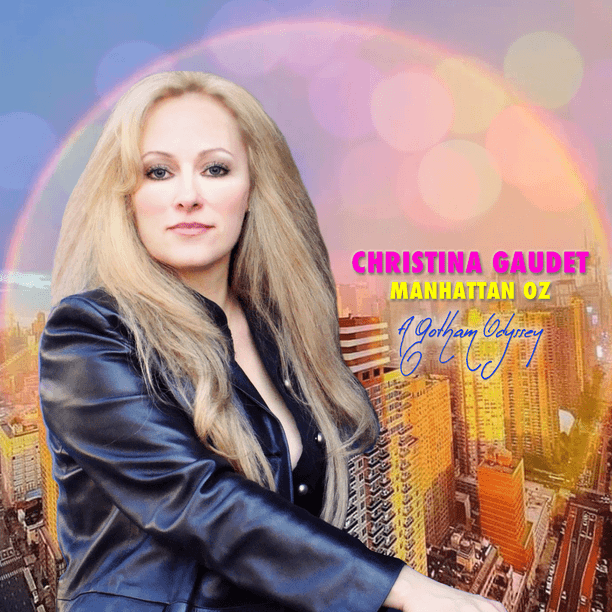 MANHATTAN OZ

ALBUM AVAILABLE NOW!!!