Album Drops Today!
For Your Consideration 
Best Rock Album!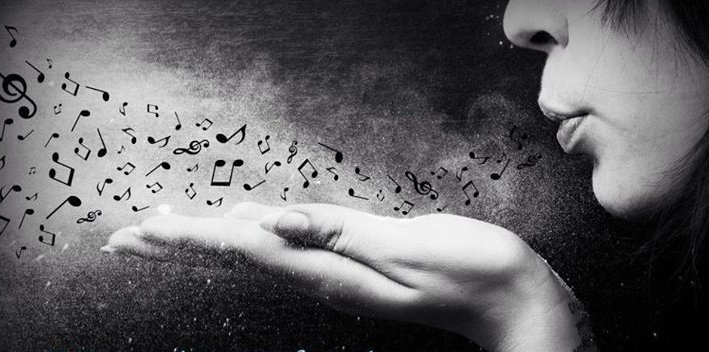 Dear friends and colleagues! 💎

Hope you are having some summer fun! 🌸

 We are so excited!

:)

Album Drops Today!

🎸🎹🤘🎼🎵🎤
After almost two years of hard work,

I am happy and proud to announce, the birth of a new album!
Manhattan OZ
A Gotham Odyssey
You can now order direct from me!
https://christinagaudet.com/manhattan-oz
Available in on-line streaming stores.
https://christinagaudet.hearnow.com/manhattan-oz
Check out some of our affiliate stores:
https://songwhip.com/christinagaudet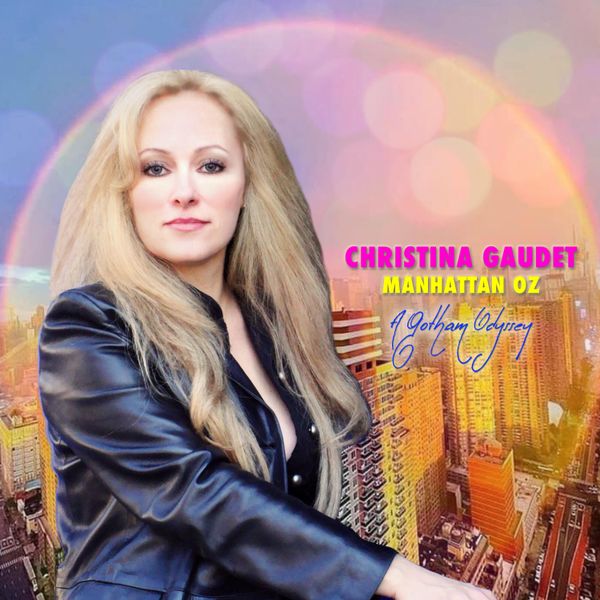 'Manhattan Oz, A Gotham Odyssey', is my 10th full length album.  It was written during the Covid-19 lockdowns in 'New York City', at a time when the world came to a complete stop. During that time I had the opportunity to reimagine a New World.
Like other New Yorkers, I contemplated leaving the city I had come to love and call home for so many years, but to where?  The one thing I know for sure is that I will grieve Manhattan if I ever leave NYC. New York City has given me so much, it has given me the illusive intangible art of fortitude and resilience.  It has given me a character that is 'New York Tough, New York Smart, New York Loving'. It is a 'Fierce Love'.  No matter where I end up, I will always be a true New Yorker!
This album is a reflection of my 40 years in the entertainment business, a homage to my life in 'New York City'.
Its is a homage to the friends and loves I have loved who have "Transcended Time'.  I call them, 'My Time Travelers'.

The album is also a reflection of my French Cajun roots and all the 'Immigrants' that have arrived in this country from Ellis Island, NY to the 'Black Bayou' Swamps of Louisiana. 
It has been quite a 'Gotham Odyssey'.  This is an American story.  It's the story of my life, a little girl from the swamps, who learned the joy of music from the garden of New Orleans, who traveled to the bright lights of the greatest city in the World, New York City.  Amazingly, I ask, what are the odds of that? 
Thanks to all the musicians on this album, who I call friends.
Each one of them are masters at their craft and shining stars!

TEAM MANHATTAN

John Zych, Eric Johnson, Trevor Sewell, George Varghese, David Rockower, EJ Ouellette, Nathan Stevens, Jody Quine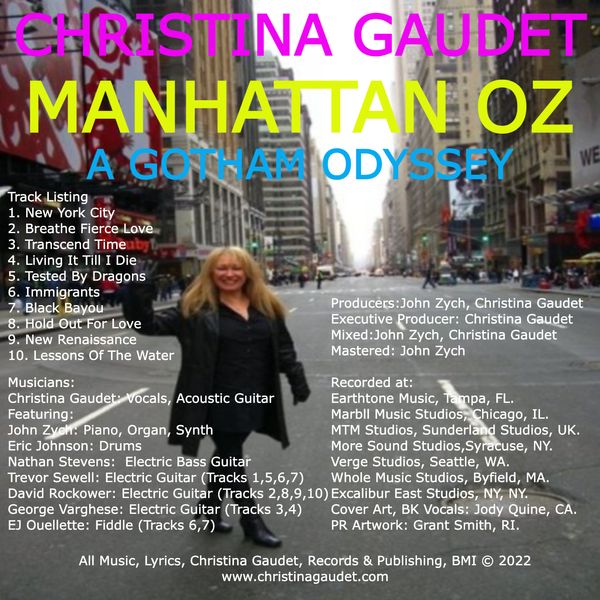 Order direct from me!
https://christinagaudet.com/manhattan-oz
Available in on-line streaming stores.
https://christinagaudet.hearnow.com/manhattan-oz
Check out some of our affiliate stores:
https://songwhip.com/christinagaudet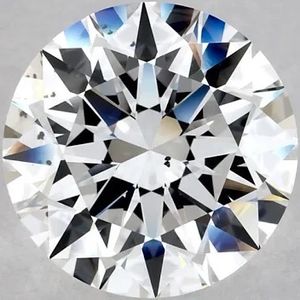 A special gift for you!

To all the 💎'Diamonds'💎 on this email list who have supported me!
A First Look Premier at the Official Manhattan OZ Video!
Please like and subscribe to the channel.
We've got another one coming!  Thanks! 
Manhattan OZ Video Premiere
https://youtu.be/YdMranw17yA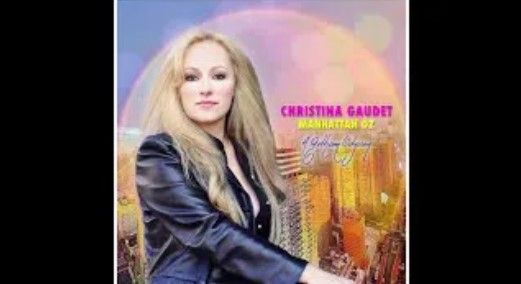 Thank you for embracing my work and making it your own. 
I appreciate you and your continued support!
Now please go out and support indie artists and buy the album! 

With BIG Love, 
💖
Christina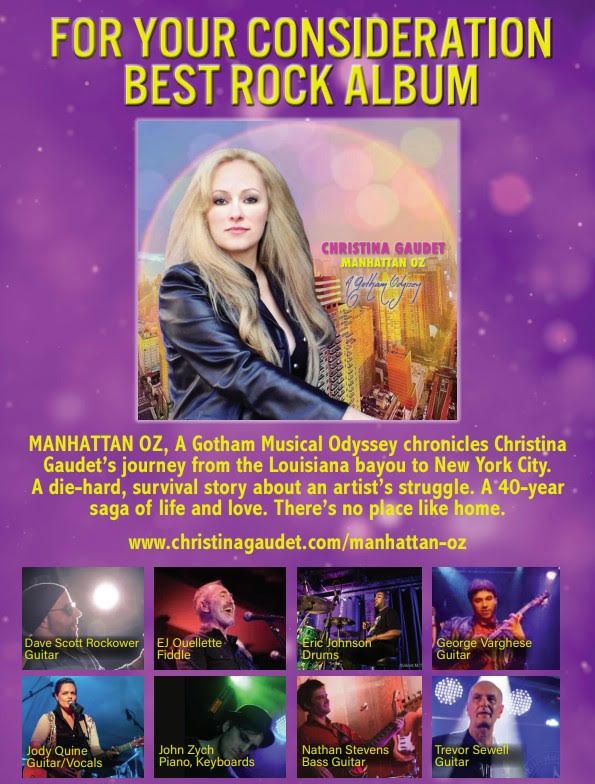 Album Reviews ~ Highlights:
Indie Shark Magazine -
Nomination for Album of the Year!
~ Thank you, Mark Druery  


"Gaudet's riveting vocals. She keeps the momentum and carries it through the album's finish. It's hard to choose a favorite track – they are all excellent.  I'm quite impressed and have to say that this collection came out of nowhere for me and I'm a converted fan. Keep Christina Gaudet on your radar folks, this self-described Cajun Queen is the current crown bearer of blues rock".... ~ Mark Druery 
https://indieshark.com/music-reviews/christina-gaudet-manhattan-oz-a-gotham-odyssey-lp/
Hollywood Digest Magazine ~ Garth Thomas
"Cajun Queen" Christina Gaudet combines the different cultural worlds that make up American music. Sung through the lens of a blues rocker and Louisiana-firecracker, Gaudet interprets the equally beguiling New York City rock beds into her song journey. With just a hint of that French drawl on certain words, but ripe with street-smart, NYC-residue rock guitars and drum arrangements, Gaudet is the perfect torch bearer for the American blues/rock scene. She has a track record of making the songs just jump and burst with energy and light." ~ Garth Thomas
https://thehollywooddigest.com/manhattan-oz-a-gotham-odyssey-by-christina-gaudet/
FAME Magazine ~ Troy Johnstone
"Powerful singer/songwriter Christina Gaudet dazzles the listener with her blend of blues and rock in the new album Manhattan Oz: A Gotham Odyssey. The way Gaudet bundles together sultry vocals with electrified guitar and drum work gives all the emotional feels – the utmost being that she rocks – These songs rock harder than I thought. It gives the listener a chance to end on an extremely high note and make something in their own life happen. It definitely lit a fire." ~ Troy Johnston
https://officialfamemagazine.com/2022/07/19/christina-gaudet-releases-manhattan-oz-a-gotham-odyssey/
Mobyorkcity Magazine~ Nicole Killian
"Blues rocker extraordinaire Christina Gaudet takes the listener to a New York state-of-mind and then some in the jumping, riveting album Manhattan Oz: A Gotham Odyssey. A dizzying spell of blues riffs, fashionable percussion and Gaudet's blistering yet smooth vocal delivery, Manhattan Oz: A Gotham Odyssey is an incredible mix of rock, blues, a dash of Americana and all that makes music so worthwhile. From the opener "New York City" to the inspiring "Living It Till I Die" to the closer, "New Renaissance" Gaudet drills a stake in the ground that she is one of music's most eclectic and powerful female voices. No matter the genre, no matter the song, Gaudet has the listener transported to a whole new level of musicality in these awesome 10 tracks. That's the thing about these songs – they represent a journey in the fast moving, sometimes harsh city of New York (also known as Gotham). You get it all – the flashy, the murky and even the joy. Gaudet is at the top of her game in Manhattan Oz. Bringing the Big Easy to the Big Apple isn't an easy task – but Gaudet delivers a satisfying, wondrous sonic journey." ~ Nicole Killian 
https://mobyorkcity.com/christina-gaudet-releases-manhattan-oz-a-gotham-odyssey/
Pop Icon Magazine ~ Trace Whittaker
"They call New Orleans – The Big Easy for many reasons. Music lovers might think of it as the source for a sound that is just so easy to love. In addition to the jazz and even zydeco rhythms, New Orleans, Louisiana boasts a strong tradition of blues and rock. It's the precipice and even main ingredient in the gumbo stew that Christina Gaudet brings to the table in her impressive album, Manhattan Oz: A Gotham Odyssey. Gaudet seems to have a knack for crafting songs that bring the magic of a live show into the studio. Gaudet sings with flair and she sings with the abandonment you want and expect from a female lead singer. Listeners that love Bonnie Raitt, Alannah Myles, Melissa Etheridge, Irma Thomas and Fats Domino will fall for Gaudet. This is the sound I've been wanting and waiting for this year – so fulfilling!" ~ Trace Whittaker
https://popiconmagazine.com/music/singer-songwriter-christina-gaudet-releases-new-music/
Love you all, 
💖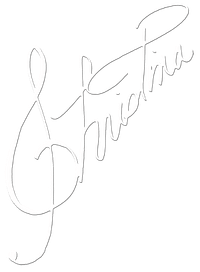 https://christinagaudet.com/manhattan-oz
https://soundcloud.com/christina-gaudet
 
You are receiving this email because we connected musically at some point in time. 
If you would like to opt out, please let us know.
Copyright © 2022 Christina Gaudet, All rights reserved worldwide, BMI.
Release. 7.28.22